Dave and I are excited to present for the first time in the free world an album by a most exciting pianist...
Szakcsi (pronounced Sa-chi) was born in Budapest, Hungary on July 9, 1943. A the age of nine he begun studying piano with a student of Béla Bartók and immediately begun composing short piano pieces. Three years later he entered the Budapest secondary school of music. At the age of fifteen, he discovered jazz by listening to Willis Conover on Radio Free Europe. Szakcsi remember that: "...it was cery hard to find American jazz records in Hungary... the first pianist to make a deep impression on me was Les McCann."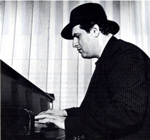 While in his early twenties Szakcsi was able to leave Hungary to learn more about jazz. In 1971, he ventured out of the Eastern block contries to Western Europe, and later that year he made a brief trip to New York. It was on this trip that he first heard Weather Report, Miles Davis, Pat Metheny, and the Mahavishnu Orchestra featuring Billy Cobham perform live. He returned to Budapest in 1972 and was appointed a professionship in Jazz Studies at the Budapest Music Conservatory.
Today, Szakcsi is a star in Hungary, composing music for the Budapest Theatre and for feature films (including the TV film "Ballet" which was awarded first prize by tha critics at the Montreaux Film Festival as well as the famous Hungario Radio Prize). In 1986, Szakcsi was presented with Hungary's leading award for a musician, the Franz Liszt prize for outstanding musicianship in both composition and performance.
Szakcsi's solo piano work evolved over fifteen year span. "One reason I started playing solo is because I could never find the right rhythm section. There are not many very good rhythm section players in Hungary." His work is a unique blend of European romantic classical music, Mozart, Chopin, and traditional Asian, Indian, and African music...all melded with a Gypsy influence.
"The idea of this album is to show my soul, spirit, heart, feelings...I want the audience to understand these things. I'm looking for that contact between myself and the audience."
We feel contact has been made. Enjoy!

Larry Rosen